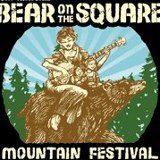 Bear on the Square Festival – Dahlonega, GA
The 18th Annual Bear on the Square Festival – Saturday and Sunday – April 26-27, 2014 
Pre-festival events will occur on Friday, April 25, 2014 with the beginning of jamming during the day and the Live Country Auction that night.  The festival is held in the North Georgia mountain town of Dahlonega, GA.
The event fills the historic downtown square with bluegrass and old time music (on the mainstage and around the jam circle), a juried artists market, workshops, festival food, and much more. The sounds of traditional music can be heard everywhere around the site as hundreds of jammers gather on sidewalks and lawns day and night to play fiddles, banjos, mandolins, basses and many other traditional instruments.  The Bear on the Square festival is dedicated to the celebration and preservation of the culture of the Southern Appalachian Mountains.
If you like fiddles, guitars, banjos and good old-fashioned mountain music, you'll love the Bear on the Square Mountain Festival. There will be plenty of food vendors as well as a marketplace section for shopping.
Read More